Post by mwardncsu on Jan 21, 2013 14:23:17 GMT -5
We did not get much snow at the lake - maybe an inch, but we did get enough rain/freezing mix that I was worried about my path to the dock being like an Olympic luge course, so I decided to put down a little insurance to make sure I could take the lazy, sloth-like way down to the boat and back.
Mark (blackedout), came up to stay at the place with me for the weekend & go to the M&G, and I invited Emmitt & MyToyzFishing to jump aboard as well. My original plan was to go out Friday evening and catch some bait as a "backup", but on Friday evening after Mark & I finished dinner and got back to the condo it just seemed to dang cold to ride down the lake searching for bait - especially with all the trash that was out in the water lying in wait for my lower unit. So, we decided to ditch that plan and just go strictly artificial on Saturday AM.
Weather:
26 to start, rising to upper 40's by noon. Blue-bird skies, mostly still winds
Water:
46-47, visibilty of 5'-8'
Techniques:
Jigging flukes, using 1/2 & 3/4 oz triangle heads with white & chartreuse heads, Zoom "White Ice", White Ice w/ chartreuse dyed tails and all chartreuse flukes
We picked up the guys about 7:15, having passed a flock of birds diving a near-by cove. We jumped back on plane and around the corner to find the birds still circling - found some bait there but only marked a few fish - and the birds moved along.
We followed the birds up the channel a bit and got a call from VTSuperFluke that was just a little further up. We slid in on some fish and Mark quickly picked up two small fish.
The fish were mostly scattered, but we hung around a while after Tyler, Shadslinger & The Band BRB slid in - Bo picked up one before Tyler even had the trolling motor in the water, but that was it for him. A few other fish were picked up by the fleet, but it was slim pickings. (you can see one of Mark's fish being caught in this sonar shot)
Another buddy called and said he was on a pile of fish down the lake a bit - had picked up 4 and then picked up 2 or 3 more before we got there - we rolled in about 10 min later and slid over the fish and then right back off and never really got on top of them again......
The birds quickly disappeared - we spent the next several hours worked several spots over, searching some spots well that normally hold fish, to no avail....
About noon we decided it was time to throw in the towel and head down to Moosies to grab some lunch. I had gotten so desperate to put these guys on some fish that I broke down and tied on a couple of umbrella rigs to pull as we headed back down the lake.... Hoped we'd trip into some fish along the way - or maybe at least snag a really stupid striper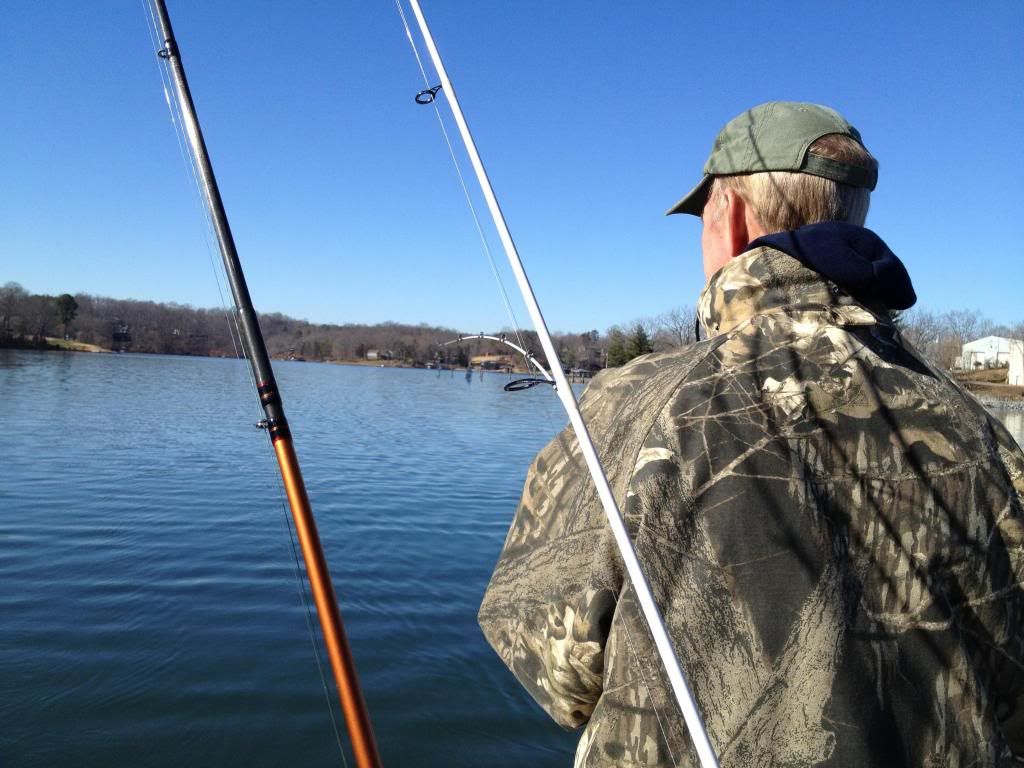 Crap in the water column... However, I was really surprised how clear the top of the water was - visibility was up to 8' in the main channel - more than usual it seemed - it may have been a mud river down 20', but when you got out of the creeks the water was a LOT clearer than I expected.
We ran for longer than I could stand to troll - maybe 15 minutes - and then reeled up and went to get a sandwich before cleaning up and heading to the Meet & Greet for "A" beer (which turned into 3 or more) & listening to BRB bang out some sweet tunes.
Fishing sucked, but the company was good and the Meet & Greet was enjoyable as always.....