Post by Yam on Jun 7, 2017 9:00:35 GMT -5
On Monday, 6/6/17, I had the good fortune of joining LiveBaitJunkeee for a quick trip to the Bay. We started our journey by dropping our boat in a creek to find bait. One hour later we loaded the boat back up and headed to our fishing spot loaded with bait. What an excellent feeling relying on our own skills and abilities versus buying bait at a store!
After pulling planer boards for a while with a little action, we then decided to lock up on a spot and chum fish. After several sharks, rays and skates, we then landed our first red fish ever. This fish was 44" and 37 pounds. What a beast! I will say that my striper gear handled it quite nicely.
About an hour later, I was then blessed with one of the best battles I have ever been a part of. This beast took me all around the boat, got hung on the trolling motor, went under the boat, and quite frankly, was more than my striper gear could handle. I never let off the tension and my rod was doubled over for a good 10 minutes. It was like the Wide World of Sports on Junkee's boat as we hopped obstacles and moved poles around to land this thing. Junkee almost fell in the water trying to jump my pole as I was finishing my first 360 around the boat. The fish came up twice, looked at us and then went on more runs. What a treat! There is no way I would have been able to land this fish without the knowledge I have gained from striper fishing SML... including what I have learned from this board! The fish was a cobia that measured 49" and 32 pounds...1 inch shy of a citation!
Thanks LBJ for the great trip! It was nice getting back on the water with my long time fishing buddy!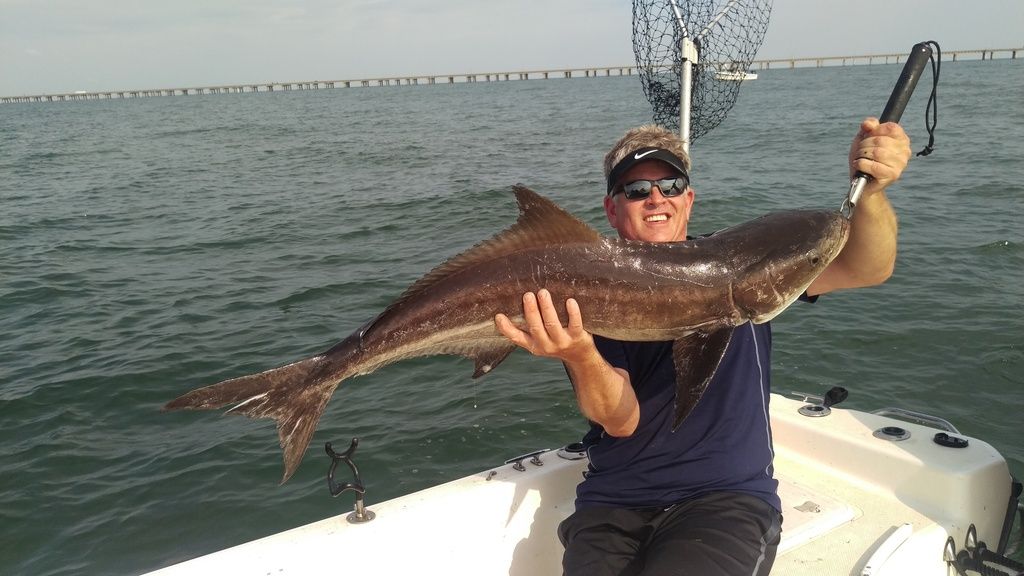 Interesting side note
: We had the Bay to ourselves the entire morning. Then, as we were fighting the cobia, a boat started to make its way towards the back of our boat in our chum slick. They then obviously saw we were were fighting a fish and stopped to watch. No problem in my mind! However, once they saw the fish, they then anchored their boat right behind us and started to fish. Man!!! Maybe that is the way they do things on the Bay??? But it was enough to make Junkee and I go find somewhere else to fish!