Post by mwardncsu on Apr 24, 2017 21:47:22 GMT -5
The Striper Mafia held our 4th and final tournament of the 2016/2017 season on Saturday, 4/22. 35 teams and around 85 anglers participated in the catch-photo-release striped bass tournament on Smith Mountain Lake, VA. The weather mostly cooperated for much of the tournament time with some light showers and overcast skies - until mid-afternoon when the bottom fell out across much of the lake. Fortunately the weather cleared in time for the check-in and awards presentation, which was held at Mangos at Bridgewater Plaza. 28 of 35 teams submitted at least one fish with just short of 20 having a 2-fish submission. Reports were mixed regarding the bite - with some teams catching double-digit fish, though mostly in the 30" or smaller size, while other anglers were marking fish but struggled to get a bite. Live-bait anglers were mixed on their use of smaller baits such as alewifes and small gizzard shad, to others using very large gizzard shad.
Some great fish were checked in during the Spring Fling tournament - 3 citations in total - a 40.75" (tournament, season & overall series to-date big-fish), a 39.75", and a 38.75; along with two 36.5"'s and a 35.25" and many more...... and the best part is that all these fish are back out there swimming to continue to grow!
It was a big day for Team SquidHound - who took 1st Place honors with a 40.75" and 36.5" striper for a series high total of 77.25". They also secured Big Fish prize for the tournament, as well as winning the Doug Hill Preservation Award for the longest striped bass of the overall Series with the 40.75" striper.
Doug Hill was one of the founding members of the Smith Mountain Striper Club, instrumental to many of the preservation efforts related to striped bass on SML that have resulted in the great fishery which we enjoy today and it was the privilege of the Striper Mafia to name this award, along with a $1000 cash prize donated by a fellow tournament angler, in Doug's honor.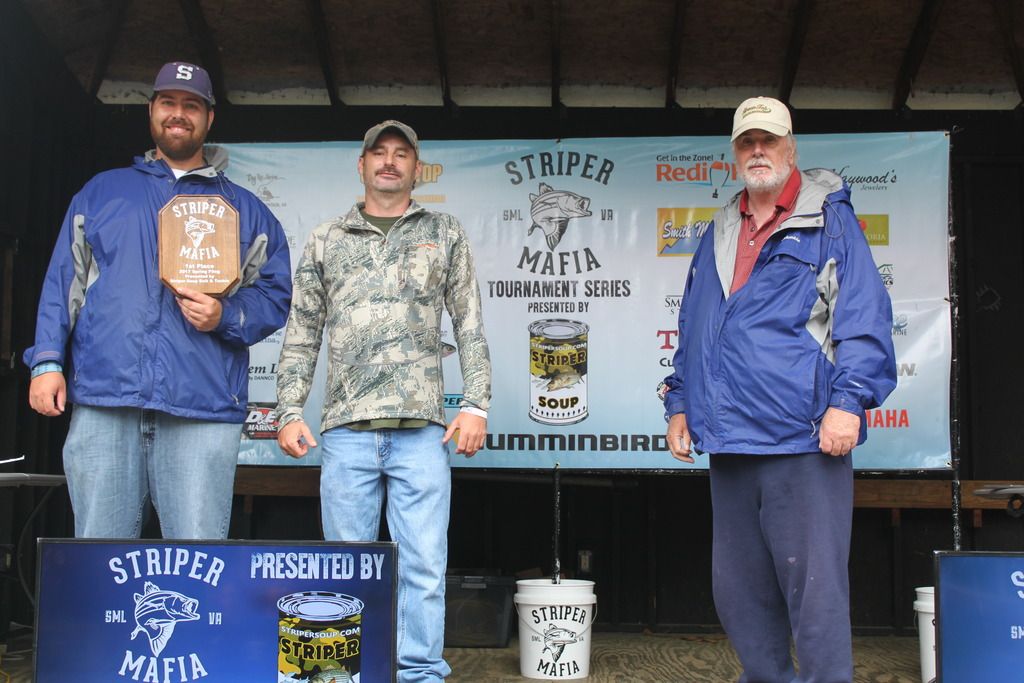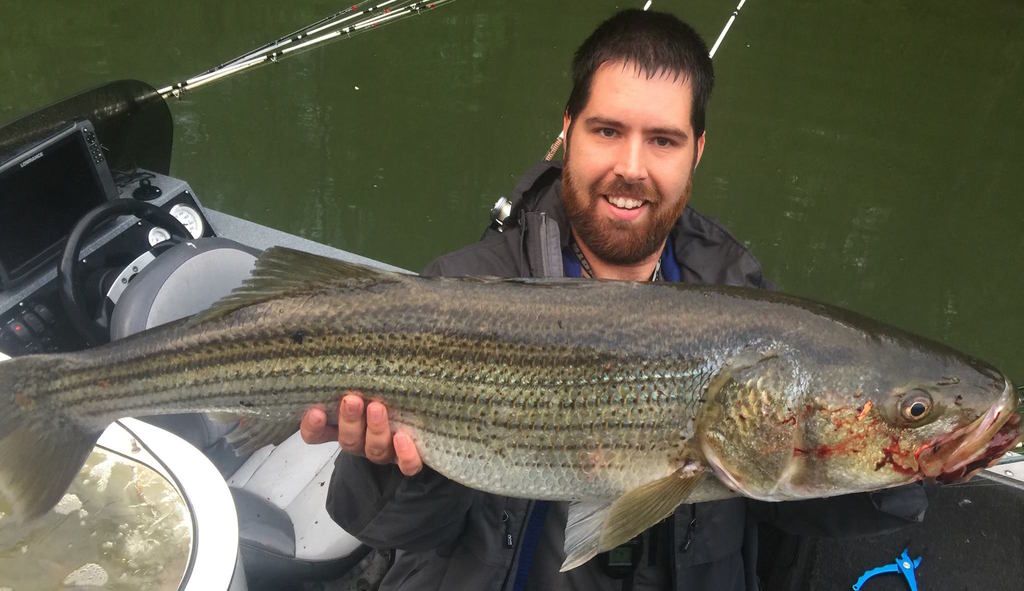 2nd Place was won by 1st time Striper Mafia tournament participants, Team Reel Smoke - with a 36.5" and 35.25" striper for a total of 71.25"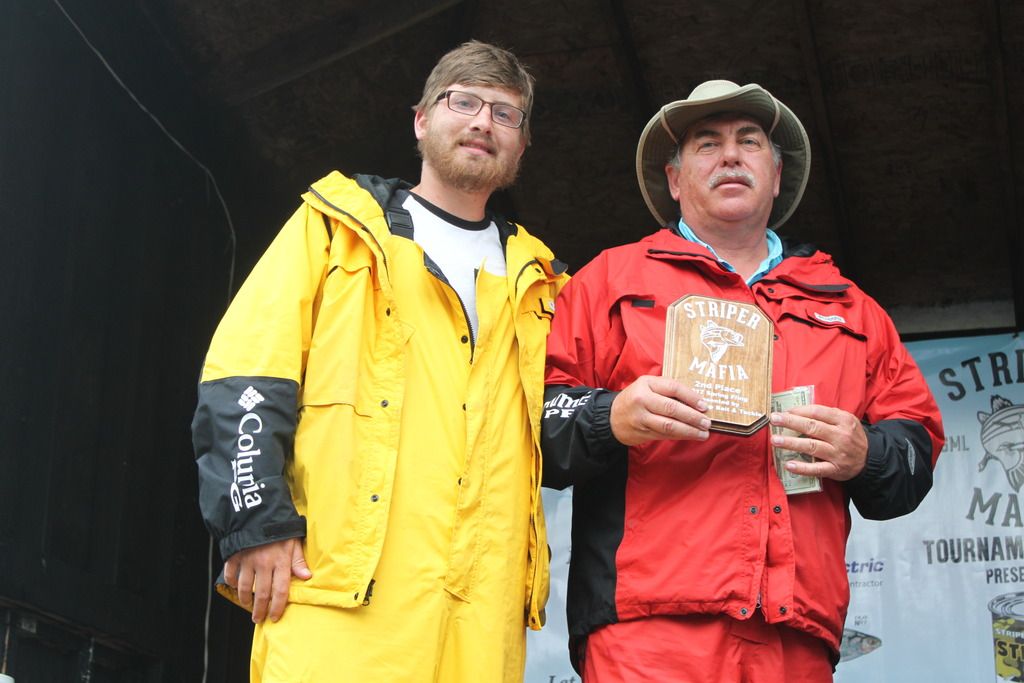 3rd Place went to Team Striped Yam. They submitted a 39.75 and a 30.75 striper for a total of 70.5"
4th Place was awarded to Team Topwater Rushers. They checked in a 35" and 32.5" striper for a total of 67.25"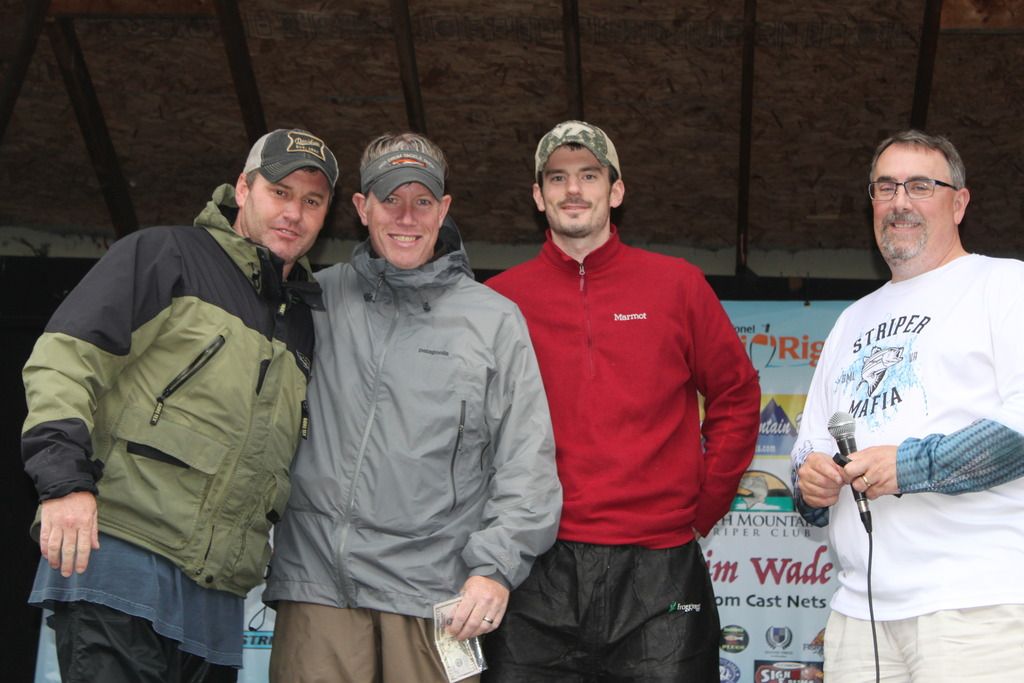 The Humminbird Team of the Year honors went to Team Topwater Rushers, Keith Mattson of Moneta, VA, BJ Babb of Charlotte, NC, Eric Gerner of Roanoke NC (3 of 4 events) & Tyler Early of Salem, VA (1 of 4 events). Team Topwater Rushers secured a 1st Place and two 4th Place finishes during the season, topping the best 3 of 4 points total to take the championship title, winning a Hummingbird Helix 9 DI and Lakemaster Chart card prize package.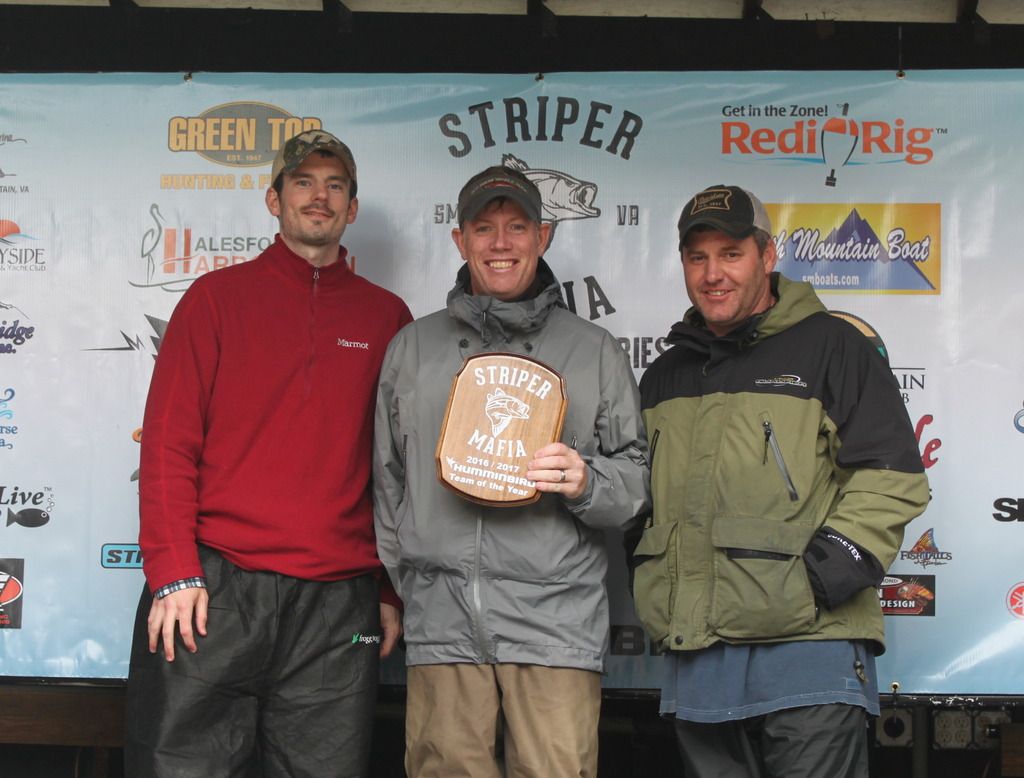 We had two youth anglers participate this event - Harleigh of Team Night Krawler & Matthew of Team Lawrence. Unfortunately either team was able to land a fish today, but these budding anglers have participated throughout the series and presented themselves well and we look forward to seeing them back next season.
Rennee K took the Ladies prize with a 35" striper - the longest caught by a lady this season.
As a part of the tournament event, multiple raffles were held in order to raise funds for Make-A-Wish of Greater Virginia, in memory of Jerry Dalton - Rockfish, who was a long time striped bass angler on Leesville Lake and a member of the Smith Mountain Striper Forums for many years and who's son is an active striped bass fisherman on SML today. Between a 50/50 Cash Raffle, a raffle for a Tim Wade custom cast-net, a raffle for a 1/2 day charter trip with Cats-n-Stripers Charters, along with other cash donations and pledges, over $3000 was raised for Make-A-Wish - the largest amount raised by the tournament series for a charity to-date.
We look forward to our 2017/2018 season, and are already in planning phases for the upcoming season, which will kick off in early November. Keep an eye on the Striper Mafia website (www.stripermafia.com) or our Facebook page (www.facebook.com/StriperMafia) for details.