Post by primetime on Dec 9, 2015 11:17:10 GMT -5
I talked with Patriot about fishing at the bay to learn he was going by himself. I asked if he wanted to meet and split expenses. So, thats what we did.
We met on Thurs. about 2pm. Wanted to go out but weather did not permit.
Fri. - Weather was rough, winds and seas, but eventually calmed down so we launched the Patriot, name of Patriots boat because he likes the New England Patriots, about 1pm. We launched at Harborton which is about 35 miles north of Cape Charles because thats where the big ones are. Wt - 52. We fished but couldn't find any takers.
Sat - Decided to fish Plantation Light so the Patriot was launched at Cape Charles. WT 54. We fished hard all day long. The seas were at least 4 feet. I even tried giving some of my chum for the stripers. I gave them a few calls while my head was near the water. Still, no takers. At the end of the day, we decided to ride back up to Harborton to get a scouting report. I saw one of Dewayne Lambs friends and point blank asked, where are the fish? I said, Im a brother in need and I need some help, will you help me. The guy said, Ill tell you where they are. He pointed and said they are at the banana hole. The banana hole! Im thinking, every thing Ive heard on the forum, bananas are bad luck. He said look on your gps, and you will find it.
Sun - Captain Patriot took us up to Harborton. I showed him on the gps where the banana hole was and he plotted the course and put us right on them. Way to go Captain!! Captain told me he liked to have his guest catch the first fish. Well.... i was up front having a pre celebratory meal when all of a sudden, captain hollers FISH! I grabbed the net and captain began the fight. Very Very exciting! First fish on the boat! Took him to Chris Bait and Tackle and weighed 42LBS. YEA MAN! CITATION! Later we had another pull and I missed it.
Mon - Captain said were going to get you a fish. I was a little bummed I missed that fish the day before. We launched out of Harborton about 7am. On the way out we saw dolphin, dolphin, and more dolphin. That was amazing to see so many. Captain concentrated, watched, and was very focused on me catching a fish. He even talked to the eels we were using to help me out, Haha. That was funny because them things are slimy, slippery, and hard to handle.
BAM! KNOCK DOWN! Reel screaming! Captain hollering fish! I jump up to grab the reel. Captain got all the lines in and I began the fight. 15 minutes later, my arms are tired and my biggest striper ever was in the floor of Patriots boat. I was also laying the floor. We were both hooting, hollering, and high fiving each other. YEA MAN! CITATION! 53LBS
Tues - Launched out of Harborton, fished for a few hours before coming back home that evening. Patriot brought another 33 incher onboard! haha. What a blast!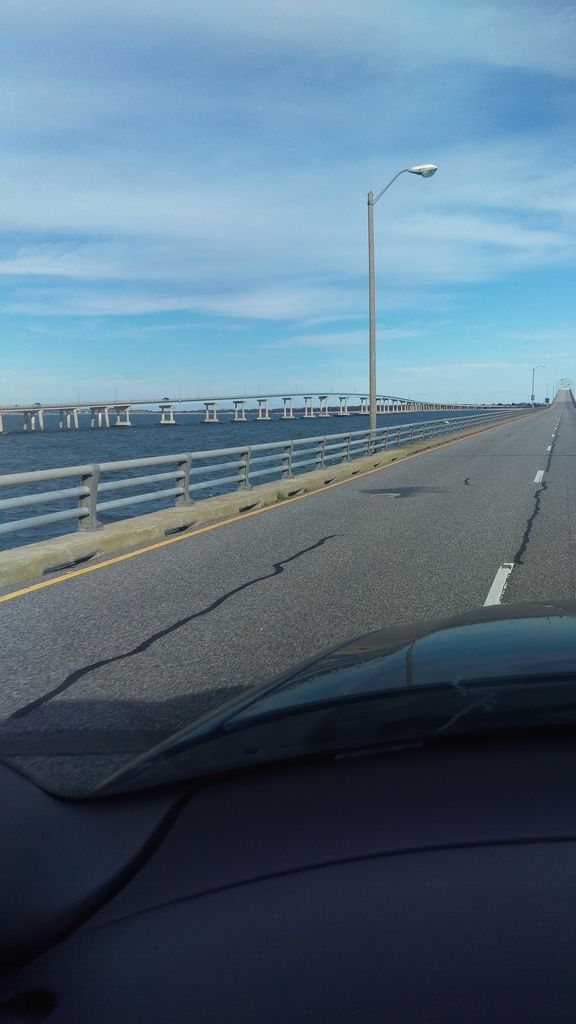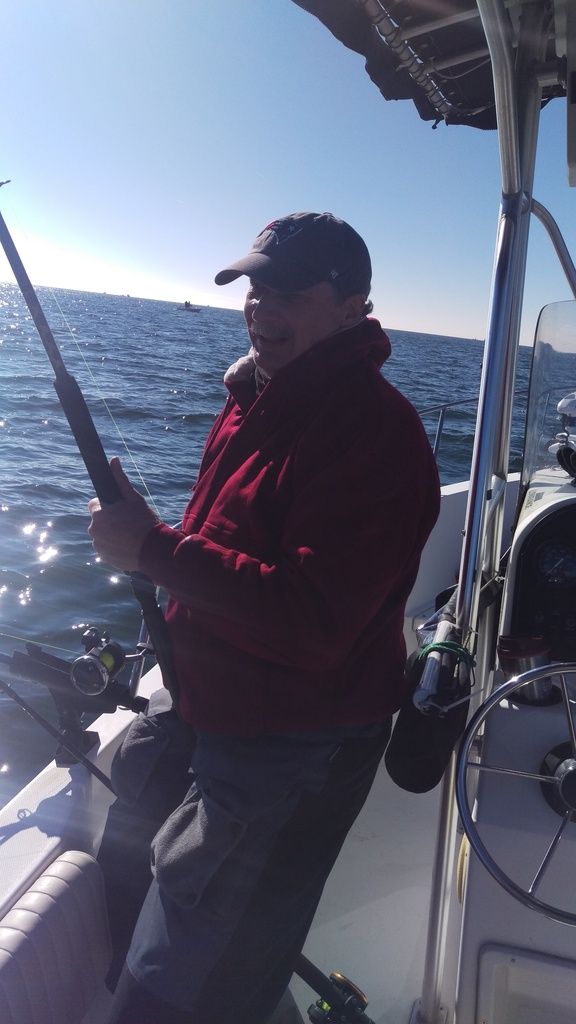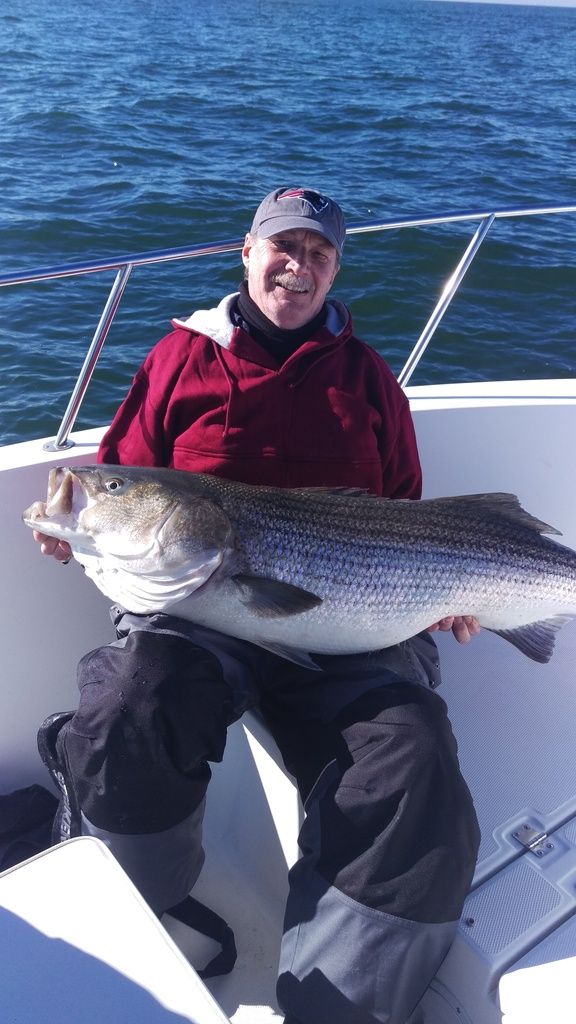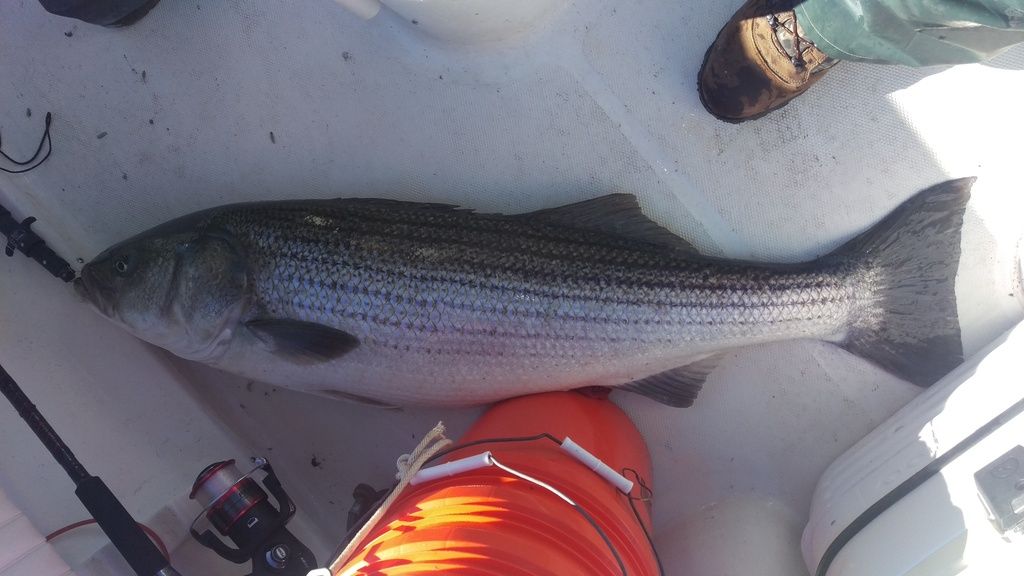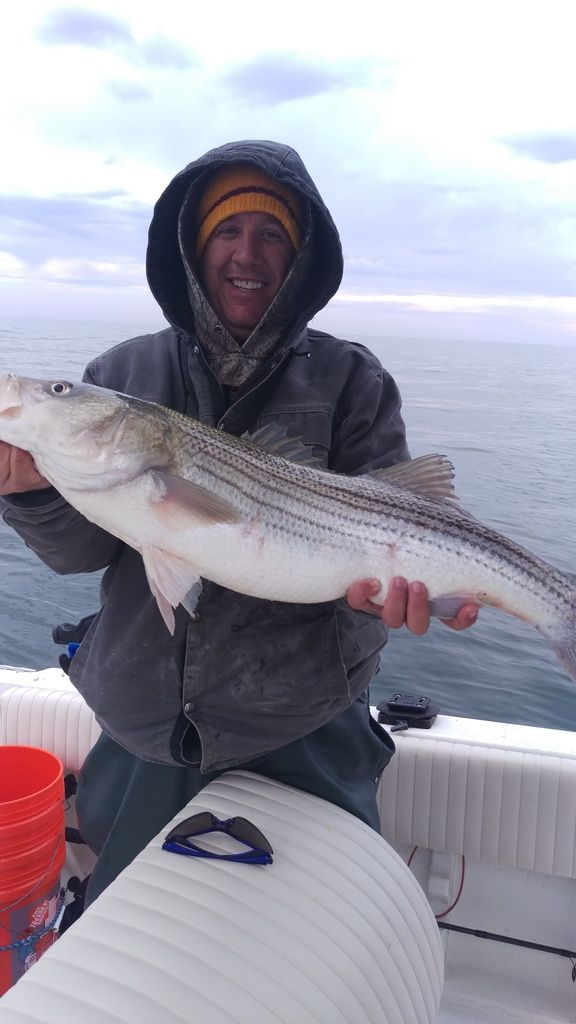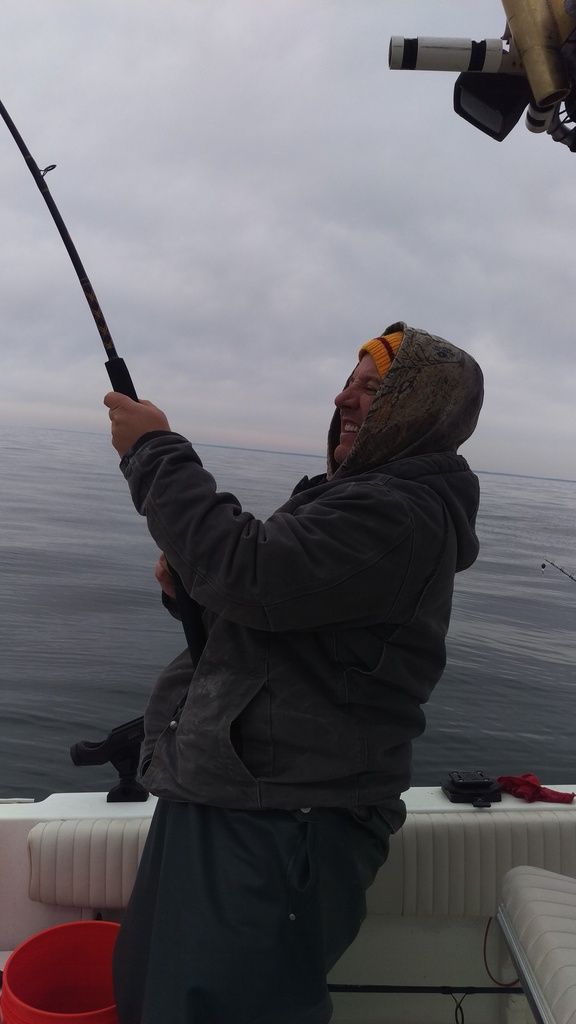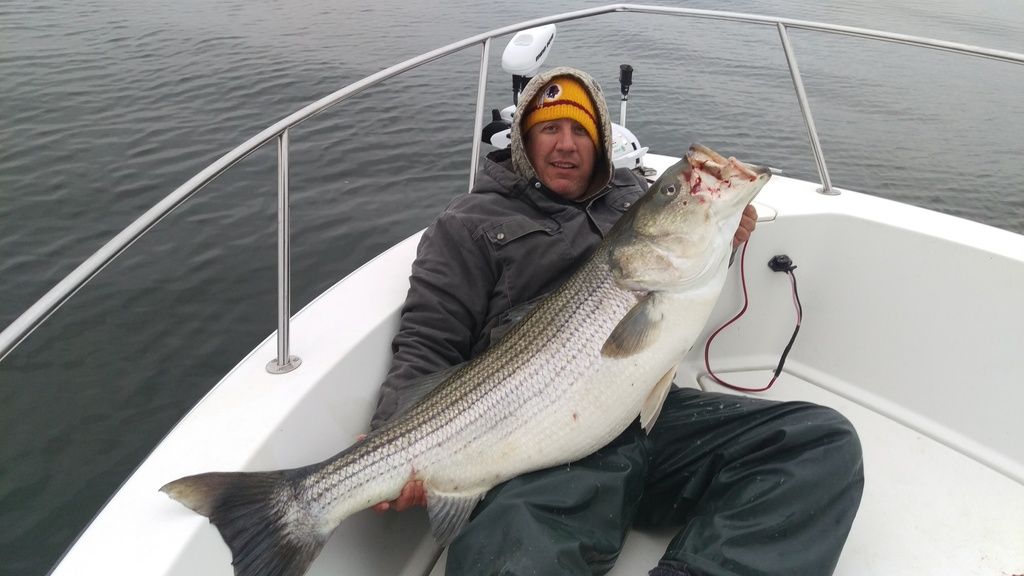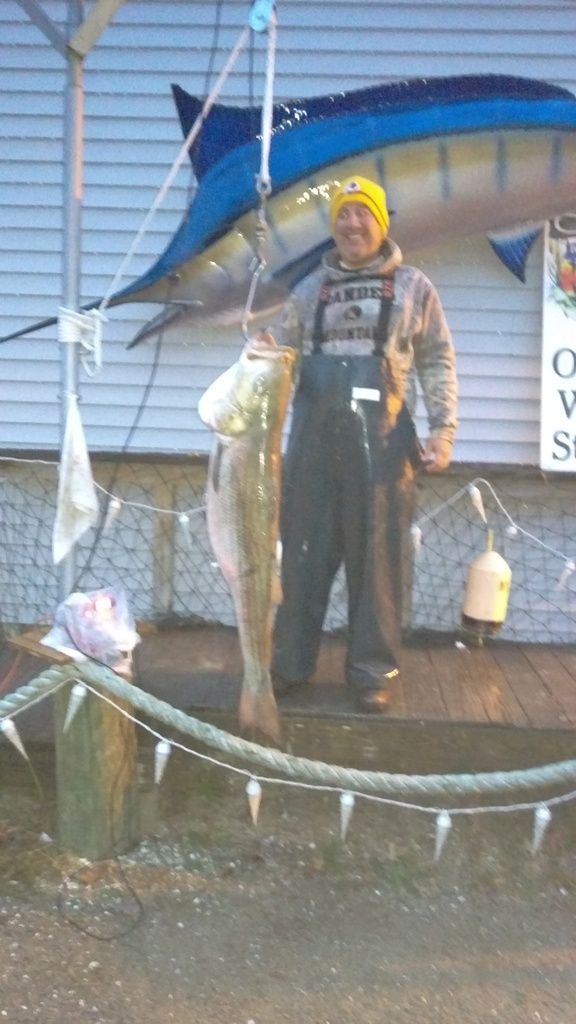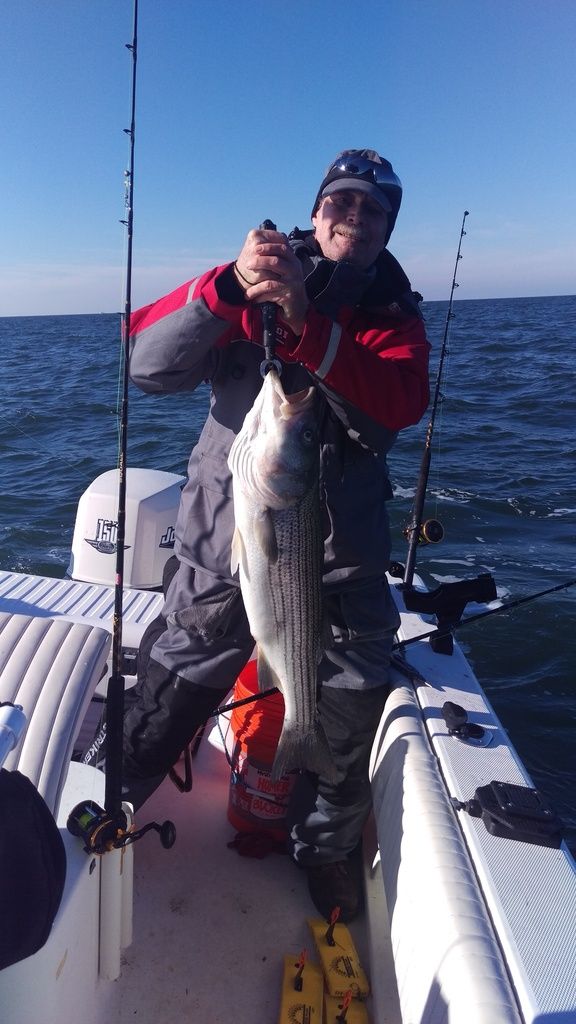 The track where the cursor is located is where we caught our fish. Next to the BANANA hole! BANANAS! HAHA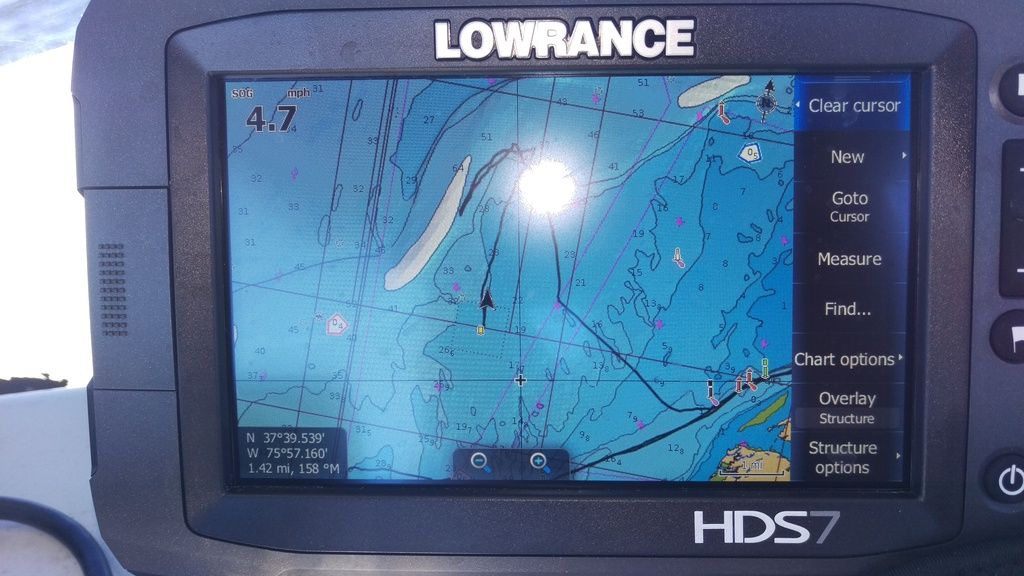 Live eels
planer boards
down lines
redi rigs
total caught - 2 citations and 2 - 32 inches
drifted and trolled
Patriot had a bucktail he caught a couple of small ones with.
Thanks for having me onboard the Patriot. It was a great time. We caught fish, no boat troubles, and everyone is safe. Thanks Patriot!!