Post by mwardncsu on Mar 24, 2013 15:03:04 GMT -5
Arrived to SML about 10am on Friday to 20+ mph winds and 32 degree temps - catching bait today was going to be miserable. A cold-front had moved in on Thursday with wind & cold, though promise for calm winds and slightly warmer temps on Saturday, followed by snow/mixed precip on Sunday/Monday. I thought it was now officially spring.

We were fishing the Club's tourney on Saturday AM. Our 1st "CPR" tourney (Catch, Photo, Release) - individual-based tourney with a 2-fish length check-in. 1st time the Club has done CPR style tournament and a big step forward for the Club.
I had a few work calls I had to do and I thought my buddy Mark that was going to fish with me on Saturday in the Club tourney was going to be up about noon or 1, so the plan was to head out after lunch - so I had hopes it would warm up some. Mark ended up running late and was not going to get there before 3, so I went on out about 1:30 to get the boat ready and start looking for bait.
Chased bait for 2 or 3 hours, finding most of it too deep to net with any success, picked Mark up about 4 and we chased it together, often throwing nets in tandem - his theory was that if the bait zigged instead of zagged it would elude one net and get caught in another :lol: About 6 pm or so we had two decent baits in the tank, and maybe a few peanut sized gizzards. We stopped for dinner at an on-water spot and when we came back out just before dark we found the bait had moved shallow just in front of the restaurant and we began to get several decent shad each throw - dark set in and we worked a light at the dock and managed to load up with about 12 money maker" sized gizzards and 4 or so "mongos" along with some "peanuts". We turned our attention to trying and catch some alewives, but they never did move into any of the go-to lights before 10pm so we called it a night with a nice tank of gizzards (though I would have liked to have some juicy alewives in the mix.
Weather:
32 rising into the mid 40's. Still, to light & variable winds. Overcast/partly cloudy with a few occasional spurts of sun for 30 min at a time
Water:
44-46, visibility of 5' generally where we fished
Techniques:
Pulling free-lines or very lightly weighted (1/4 oz max) planers(3) with money-maker & mongo gizzards on planers bank-side, and then money-makers on channel side with mix of free to light-line (3/8 oz) planers (3). Downlines with 4"ish in gizzards (4), two floats out the back with money-maker gizzards.
We headed out at 1st light and I was having a hard time deciding where to fish. Friday evening we saw some birds working mid-lake so we decided we'd go check and see if they might show any schooling fish near the channel. Made a quick run down and check - found the birds, found the bait, but did not find the fish.
Flipped a coin and decided to head up the lake. Something told me to pull into a creek part-way up where I had heard there was a lot of bait the evening before. Sure enough the creek was holding a lot of bait - so much that I figured there HAD to be some fish, so we put out and started pulling the back part of the creek 1st - nothing going on after a couple of loops, so we moved out towards the front part of the creek, pulling a few points that are often good to us - I did pick up a small 23"ish fish on a downline to put something on the board. We circled around to the other side of the creek and as we passed a couple of docks on one side of a long, larger point the inside, bank-side board took off. Mark grabbed the rod and started to fight the fish.
A few seconds later, the outside board with a mongo-gizzard on it took off. I grabbed and slammed the hook home the way Tyler "taught" me

, and slammed it home two more times for good measure. Those two fish proceeded to start weaving a sweater out of mono as we fought them among the other bank-side planer and float. Somewhere in there we got a hit on the bank-side float and Mark tried to set the hook but with so much line out on the float and him trying not to drop the rod in his hand with a fish on, the hookset did not connect.
We both got the fish to the boat about the same time and somehow managed to net them both into the boat without loosing them - both were nice fish - Mark's a 33", 12lber and mine a 35", 16 lber. We broke out the tourney measuring device & camera to take pictures, check to make sure the measurement was readable in the pic and get the fish back in the water. Did it all real quick and with the double (almost triple) and the mess in the boat and a nice fish laying in the floor while we measured the 1st we had real chaos going and were moving fast.
Things were looking good for the day's tourney for both of us..... spent probably 10 minutes untangling our lines and setting back out and about half-way around the pull, it me......
I FORGOT TO PUT THE TOKEN CARD IN THE PICS


The token card is a required
item in the pic that has your name and a # that is released just before the tourney to ensure the pic is from the tourney. No token card and the fish does not count. I can't complain - I knew the rules - I helped make the rules.... I just plain forgot
I wanted to just put the rods away and go either tie a anchor to my legs and toss it overboard, or go find a bar and start drinking. Two high-quality fish that don't count. You can be rest assured that more than one choice words were said.

Worst part was I had put it in the 1st pic of the small fish - it's not like I did not have the token cards - just totally forgot to pull them out in the chaos of the big fish double.
OK - pull ourselves together and let's salvage this thing.... we pulled that point several more times with some nervous baits, but no hits. After maybe another hour I decided to make a move and fish a near-by spot that will usually hold smaller fish, but at least ones that we could get on the board to try and salvage the day in some way. This is an individual tourney, but also a tourney-series for the members that want to participate, so you're better bringing something to the check-in for the long-haul than a 0. We put out downlines in this area and picked up two fish as we worked it - a 24.5" for Mark and a 28.5" for me.
As we were getting ready to pull in from that spot we spotted a fish floating on the surface - we trolled over to check it out and make sure it was not one of ours - as we approached it had an odd shape - long and pointy on both sides. Then we see it has a tail on both ends

What we find is this 14" striper that definitely had eyes bigger than its stomach and had tried to eat a 10" shad. We netted it, pulled the bait out and let the little guy swim off, hopefully he'll make it and we'll catch him when he's 20 lbs in a few years. Maybe we'll get some good karma for this act of random kindness ;D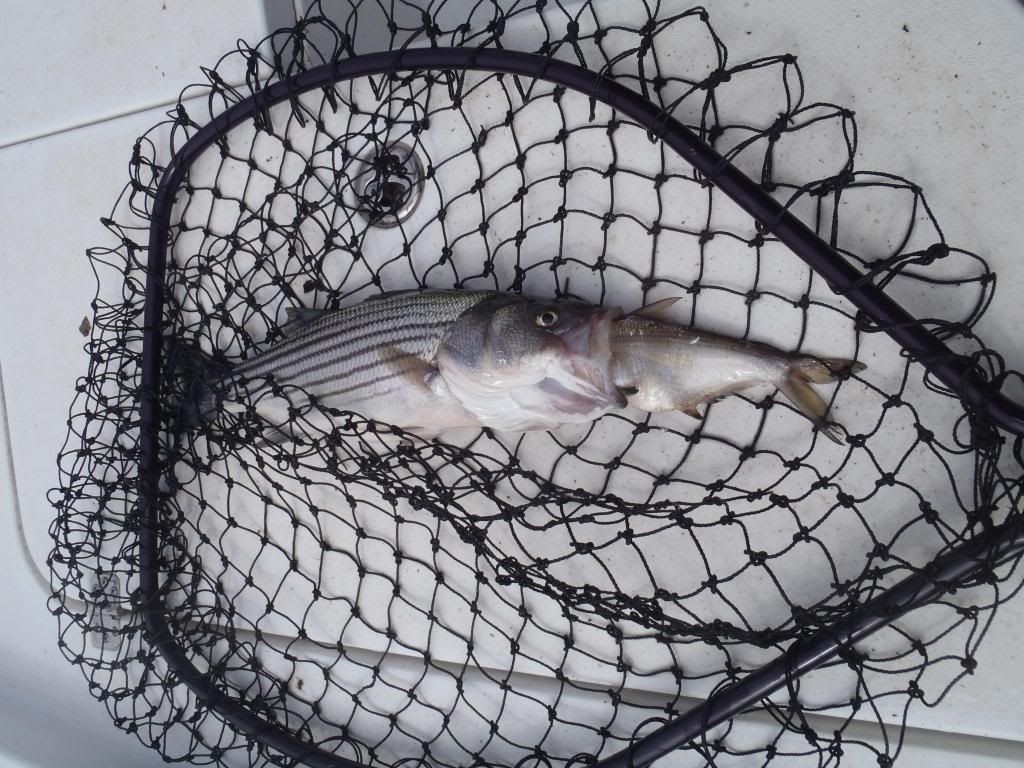 At that point we had about 3 or so hours left so it was "go big or go home" time. We headed down the lake to a spot I'd been fishing with Tyler and another buddy the last few weeks and where Tyler had been fishing a lot recently as well in the evenings - and where I suspected, but was not sure, that Tyler had been fishing that morning

It has been an evening bit spot, but was hoping buy this time of day maybe a little sun had warmed things up and it would start to turn on. I did check the other few warm-bank spots I was considering but there were too many boats in the area, so I decided to head on down. Arrived to sure enough see Tyler working the back side of that creek. We set up just before a point and in just moments had a board shoot off - Mark lands a 31" - which almost made up for his 33" (although it sure would have been nice to have a 31" AND a 33" for Mark).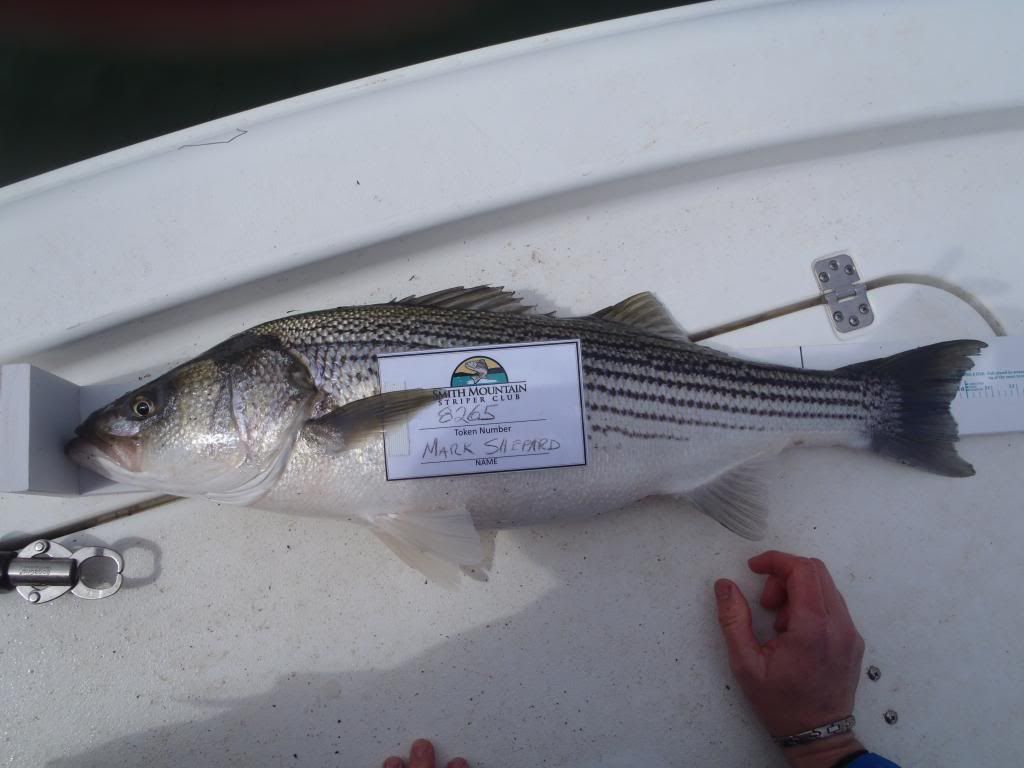 We worked that creek until it was time to head to the check-in - nothing going on at that point - found out later from Tyler that that creek and another one had been VERY slow for them that day (contrary to the reports from Tyler and another buddy of multiple citations being caught that AM and texts of pics that were actually from days and weeks before that had been arriving throughout the day

)
Well, turned out to be a tough day for a lot of folks - Of 43 registered entrants, only 30 fish were checked in from 20 participants. However, it was an even tougher day for us since that f-up with the token card cost Mark 1st place and me 2nd for the "Open" (live or artificial) class. Mark still ended up in 3rd. Think I was 4th or 5th as a result - not quite sure. Just VERY glad we decided not to enter big fish since the biggest fish measured in was 31.5" - which we blew away with our non-qualifying catches.
Congrats though to Chris May & Macky May on taking 1st & 2nd place in the Open category (live or artificial bait), and to Joel Janeck, Don Hutchinson & Bill Pecoraro for 1st, 2nd & 3rd in the artificial-only category and Chris May for the big-fish win. They all remembered their token cards and the rules are the rules - and yes Tyler, I did help make the rules, and help make the token cards in fact, so of anyone, I should have remembered

Once the check-in was finished, Mark and I went and met Tyler and his crew for
A
beer at the local watering hole to drown my stupidity of the day - then headed out to fish till dark on Tyler's rig, chasing the dream.......