Post by catsnstripers on Jan 5, 2013 11:49:50 GMT -5
My self and good friend Dangerfield have been wanting to get on the james for blues for sometimes. He hasnt even been, much less caught a blue. I havent been in a looong time. We settled on ringing in the new years reeling blues..
We set out and arrived at dutch gap. got the boat in the water around 9am Rode right down to Deep bottom in search of bait. Went in the upstream side and found nothing but peanuts on the Lowrance. Rode around to the boat launch and No Tresspass. And found some schools of big shad. But they was deep 15-20ft and wasnt many flipping at all. But they was small schools and moving fast. I need a new gill net, but Wheeling my 12ft calusa still only would manage 1 bait every 4 throws. But It added up. Some fine fellas in a triumph dull console offered a couple baits aswell And I appreciated it!
We set out for fishing. Kinda of doing a scouting mission So we could find a pattern. Wasnt no pattern, you just had to go fishing. And so we did. We mostly managed some dinks and a few low teens. But finally did put a few in the boat up to in the mid to high 30's.
First day rounded up, hotwings and a few tall ones at hooter. And we rang in the new years snoozing in the room.. Next morning and after a hardees steak biscuit, which by the way are not near as good as the commercial says they are. We launch out of dutch gap just before daylight.
New years day, Arrived down at deep bottom for some bait at daylight and I was hoping it would be like at home. Active and rooming shad right at day light..... AND WE seen alot of flips before we even set the boat down. Just a handfull of throws and we had 15 big cutters swiming in the bait tank. I told David, lets roll. If we run out then we had a good day.
Jan 1st start out right slow. Jumping a few spots, then bam had two nice fish hooked up a 30 and i lost mine... Next two spots yeilded nothiing but dinks. Then slow again. Finally has teh afternoon was winding down. We hit two last spots we had scouted And ended up staying on them for a while. A few high 20's and mid 30's.. A 30 and a 40lb double. and finally my buddy catching the largest fish after multiple largest fish he has ever caught we boated a very pretty girl at 62lbs. He was exstatic and i was thrilled. That was the last fish, and the last baits we set out too. We put 3 10lbers in the livewell for eating. ALL BIG FISH RELEASED! We called it a trip and was back at the ramp a little after 7pm.
We found alot of fish, alot of structure. But really found no set pattern. We caught good fish in as shallow as 5ft in the back waters and deep as 36ft in the main channel. I belive just moving around and finding active spots is key. We mostly stayed around the dominion power down to below deepbottom area. We Rode down to Hopewell and the appomatox river. But i dont have alot of experience down there, we scouted for a bit over the deep holes and flats down to jordon point. But If im not confident then i have a hard time fishing it. Back up we went to waters we felt better about. We fished above dominion power but we didnt see or do much, wasnt alot of bait nor fish we marked. Back down, We fished drop offs from 10-20 and 15-25 and did well also. We just hopped around and fished the areas we liked as we passed them.
We first started just chunking the baits out. But we would get alot of big pulldowns but no hook ups. We started down sizing are cuts and the hook ups increased. Even still we had alot of misses. So if we could tell it wasnt a dink, as soon as the rod started to load, we punched it into free spool (like we're flathead fishing) and let him run a bit. After a few seconds the reel would really start to dump the spool, thats when we would lock the reel down and let the rod load up and that big gamakatsu circle drive home. We started hooked up alot more this method.
Awesome trip, and we plan to get back down soon, real soon!
Heres some pics!
Travis
CatsNstripers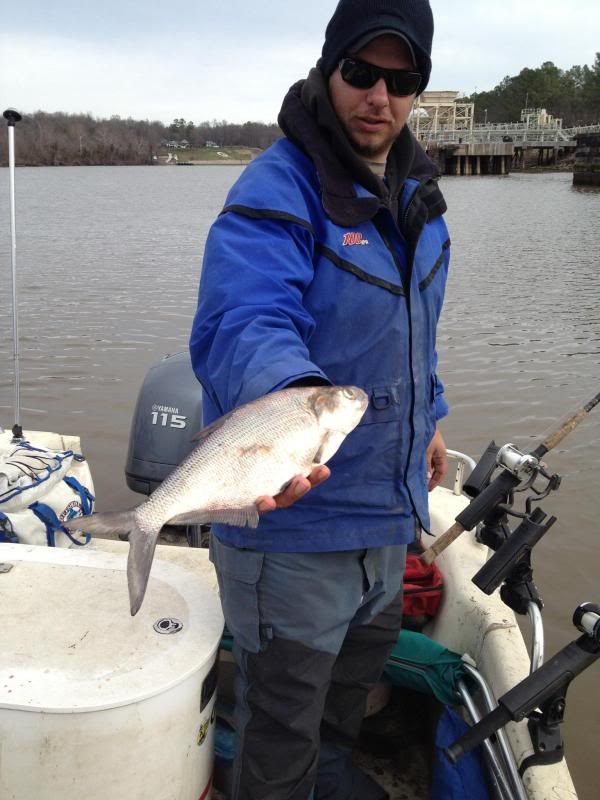 DD's first blue cat ever haha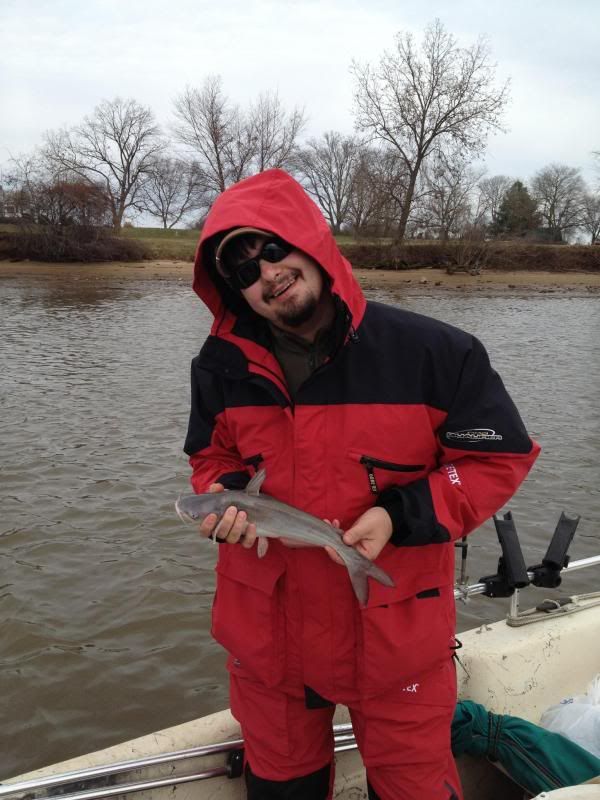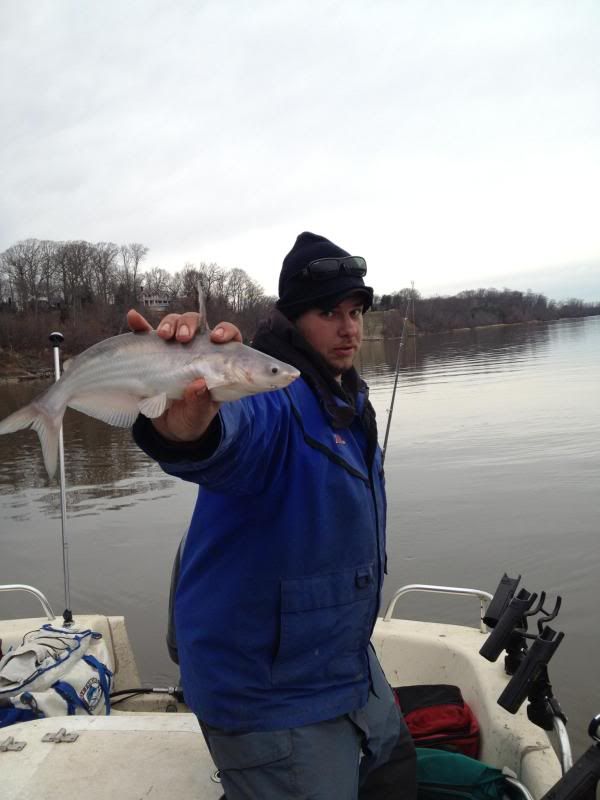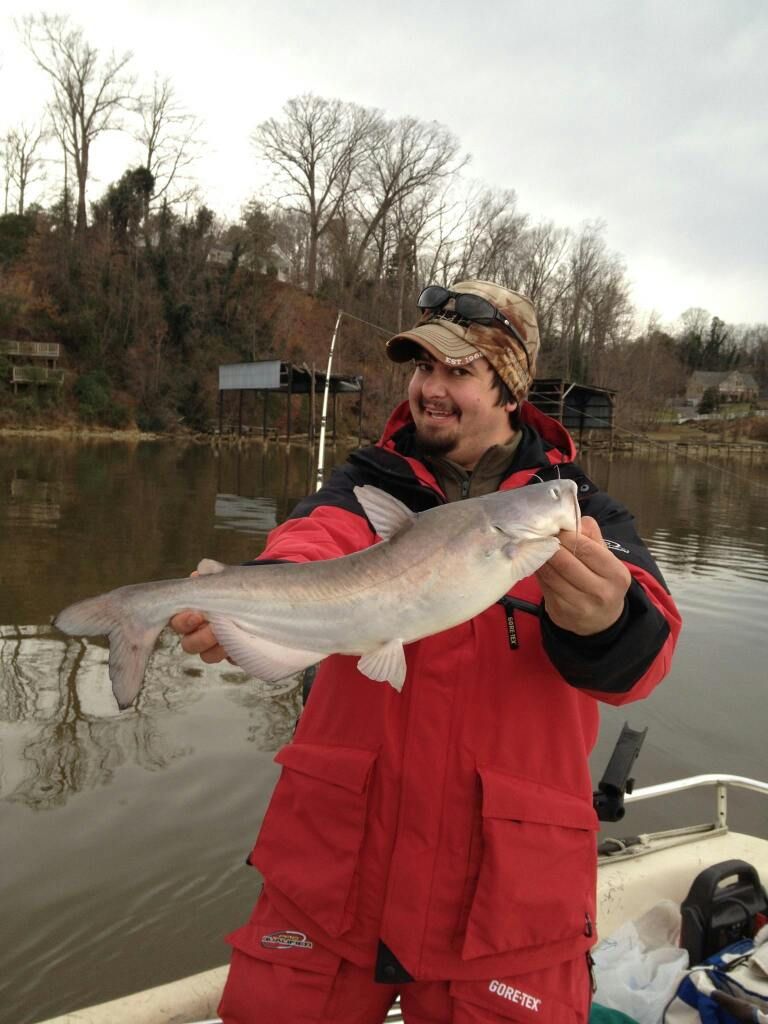 You can tell by that Grin that this was daves first big blue!!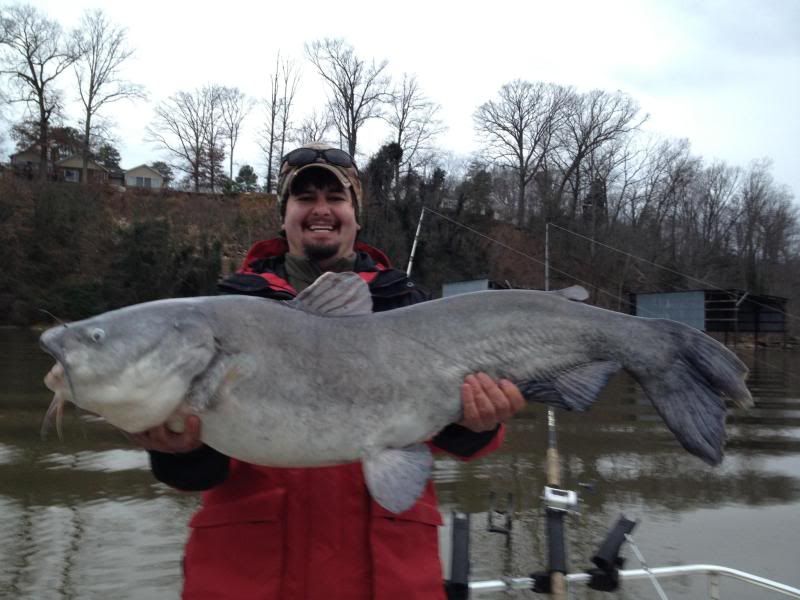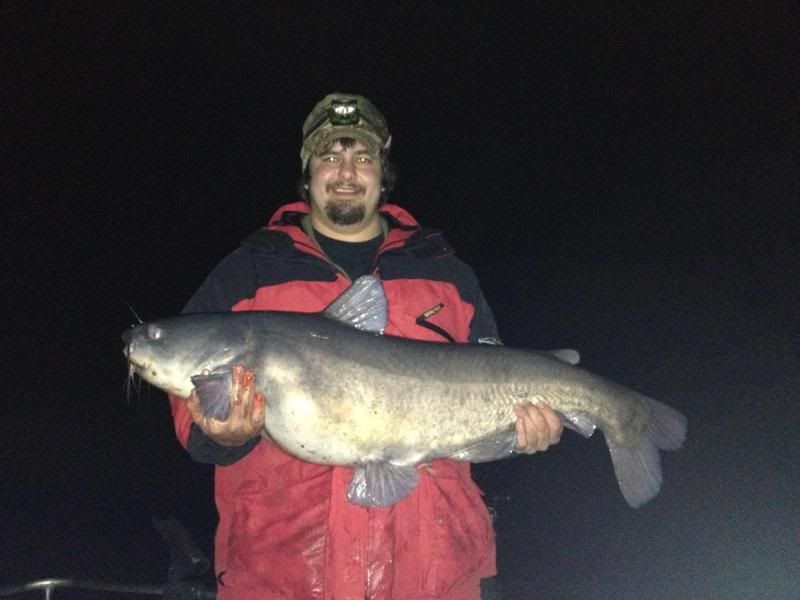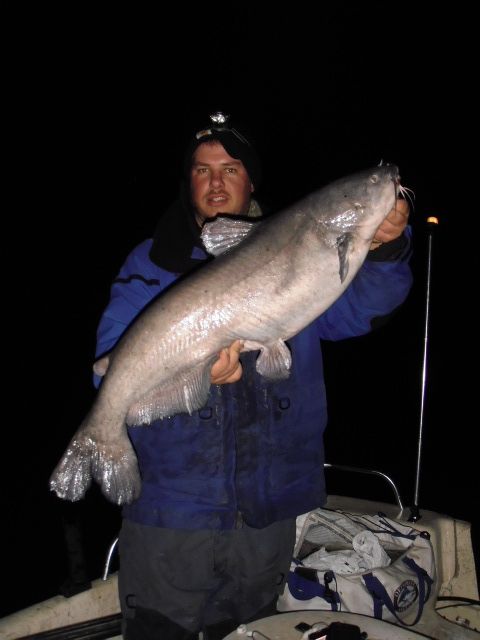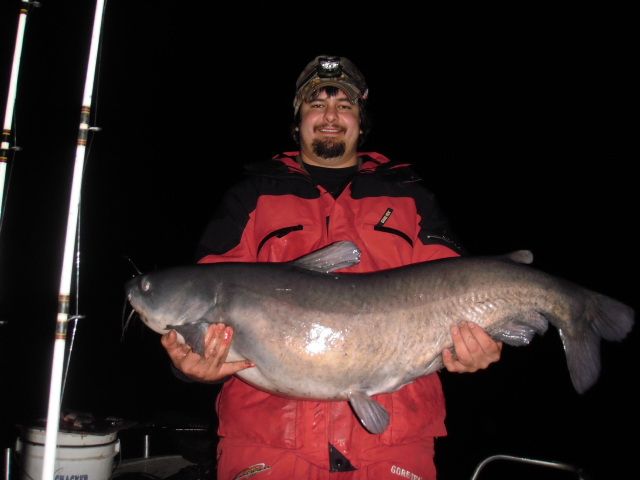 This would have been a great picture if my camera didnt turn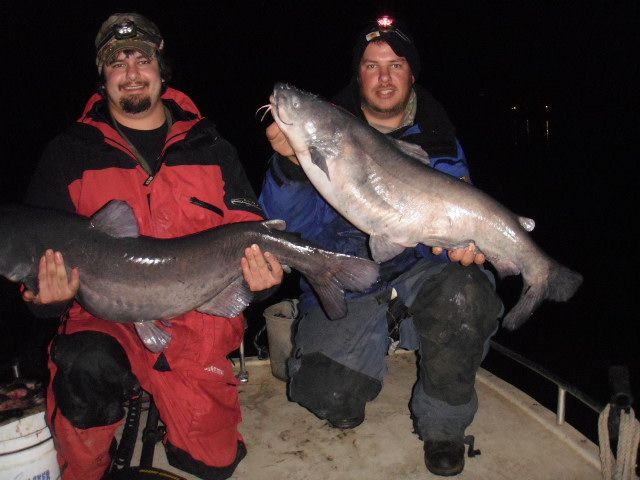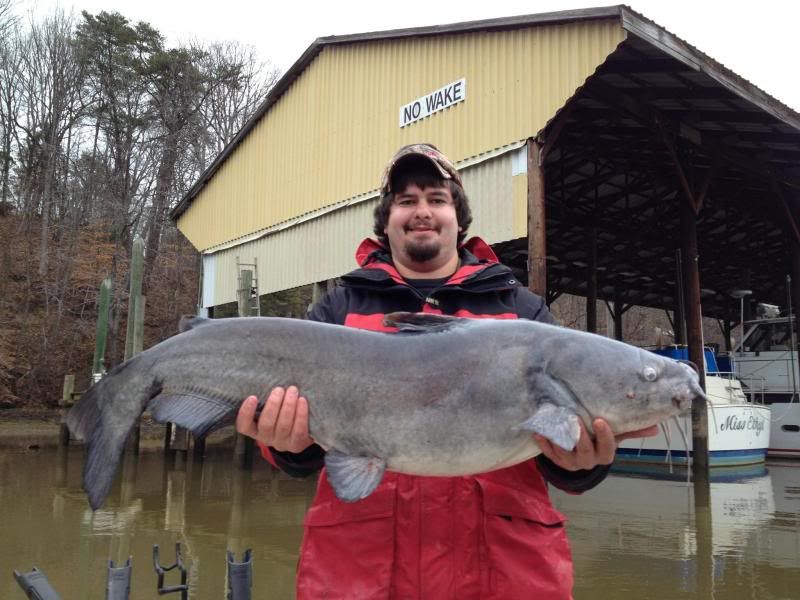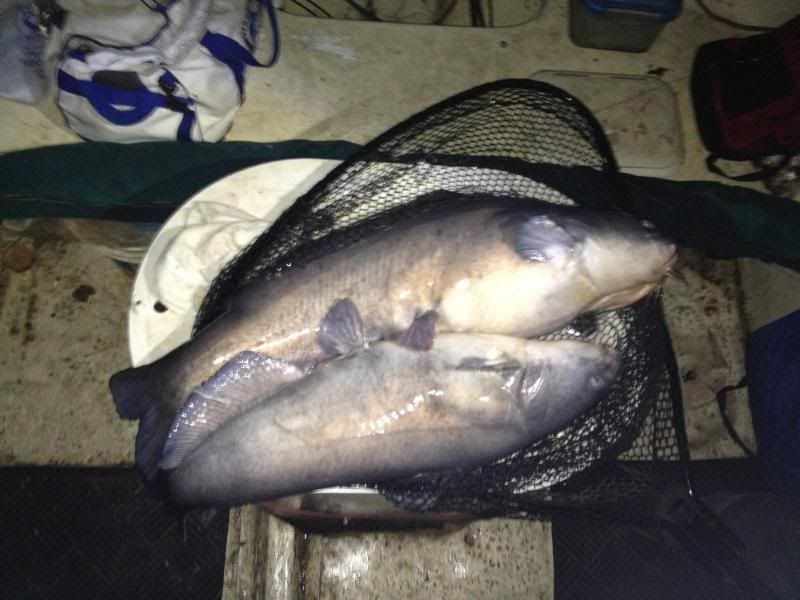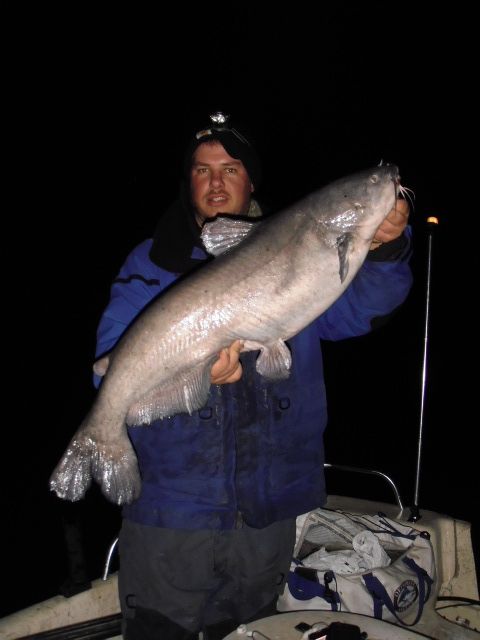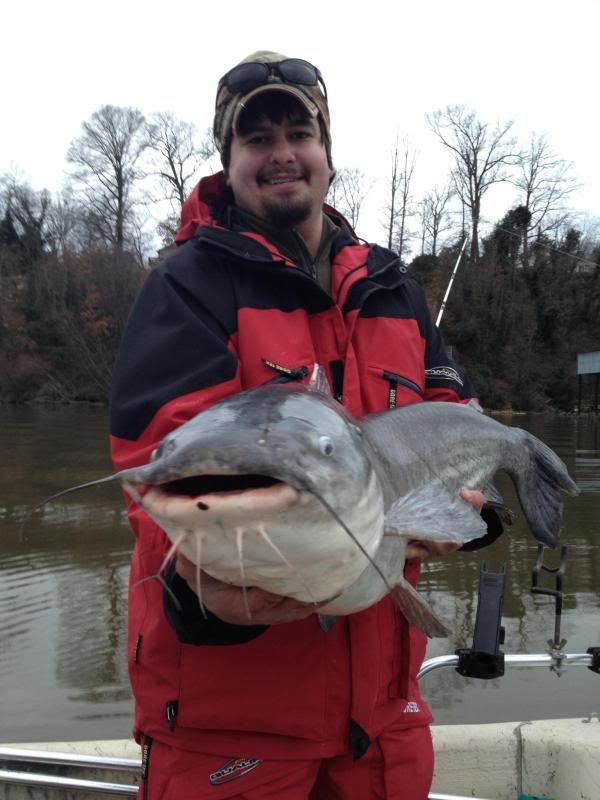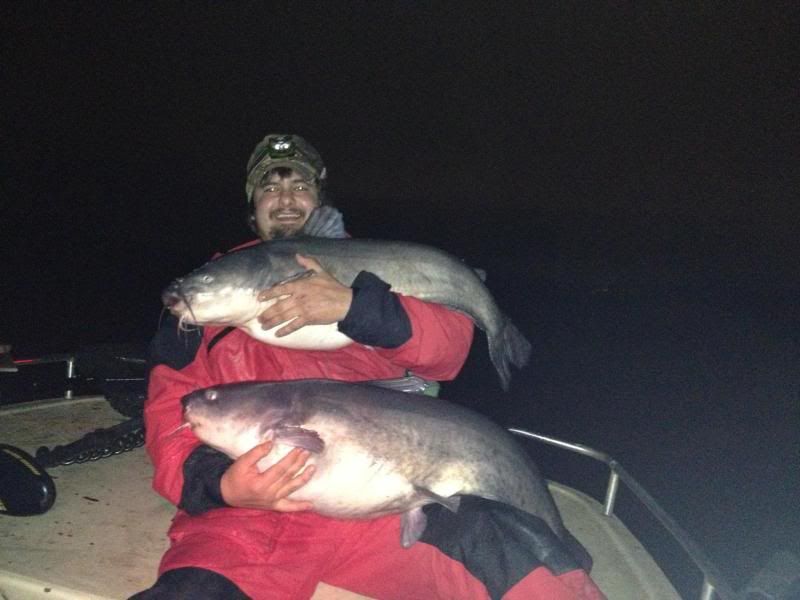 62LBER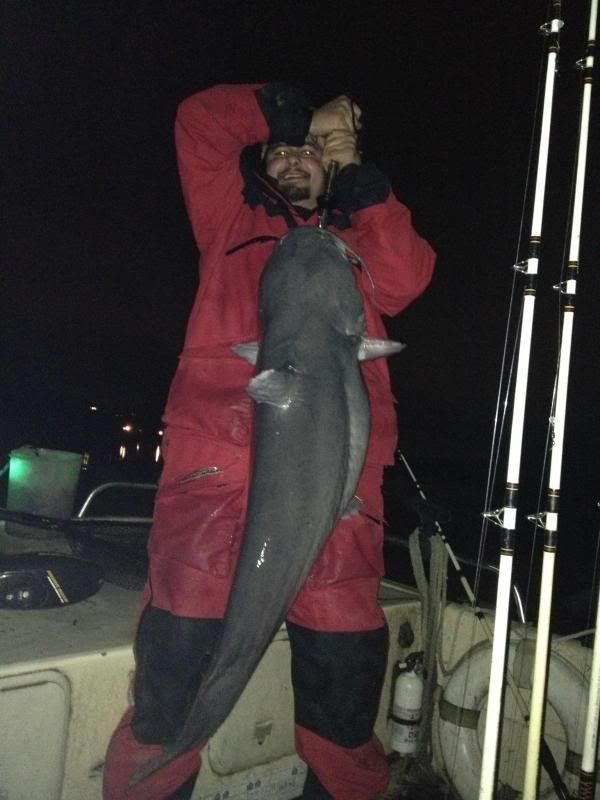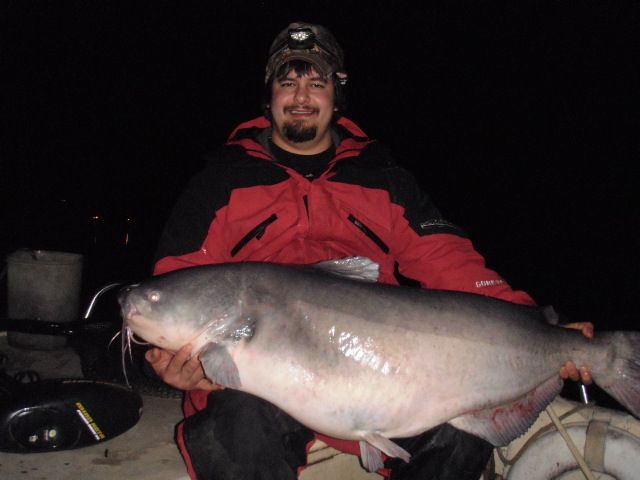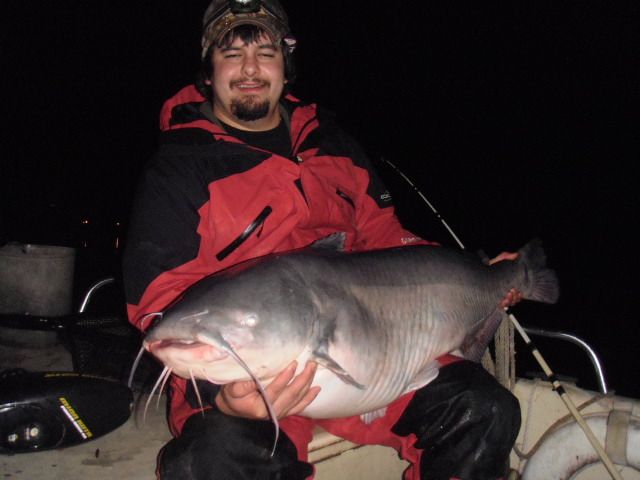 MY camera has a terrible flash for the eyes