Post by mwardncsu on Nov 12, 2012 12:23:36 GMT -5
Just4Fun PM'ed me asking about floatation suits, and with winter approaching I thought I'd just reply here as a general post so that everyone could see the info and chime in as well... won't be long now before it is time to break it back out.
Hey, I was wondering about floatation suits. I fish alone at times at night and Was wondering if you could give me any advise on brands and where to purchase them. I see a few on line but without actually seeing them I'm not sure which route to go. thanks for any help you can give.
I have a "Arctic Armor" suit that I purchased a few winters ago that I purchased locally from Virginia Outdoorman when Mike was still open - not sure of anyone else that carries it locally, but I know you can order them on-line from several places.
www.idigear.com/arcticarmor1.php
This suit claims to float you, although I'll be honest that I've never tested that claim and it should not be relied upon as a replacement for a PFD. I will say that it is very warm, very wind proof and overall pretty light in weight. And I mean warm - if it is not freezing out or colder I will wear a pretty light layer on under it if I expect to keep the jacket on the whole time. Typically I'll just wear jeans and no long-johns with the bibs.
Plenty of pockets and D-rings for clipping on your iPilot remote, and the bibs have a nice feature - a two-way zipper so that when it comes time to answer Nature's call, you don't have to zip those bibs all the way down - you can just zip up just enough to take care of business ;D
Several other guys on here have these suits now. I know Bentrod got one last winter or winter before (don't think he fished any last winter

) and had an issue with one of the elastic straps on the bibs pulling away from where it was sewn on. Mine are holding up well now after about three seasons, going into the 4th.
The one I have (the red one) is a nylon type material. They make them in camo with a "soft touch" material that is quieter when it rubs against itself - perhaps useful for the woods, but I figure the nylon is a little more water resistant - maybe not.... I like the red as I'm a NCSU fan, but also like the thought of the higher visibility should I end up in the water.
I ended up buying a mis-matched size set - can't remember now if I got XL bibs and a L coat or other way around, but found that fit me better than just XL or just L.
Heading up the lake about 35-40 mph - Bentrod huddled down as warm as a bug in a rug....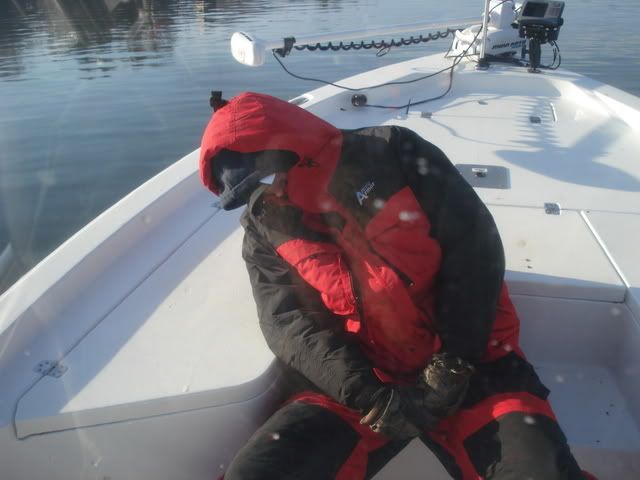 Good suits - plus you look really cool in them